なんか幸薄そうな娘。Disocrd ワンディーさんのカードを自分好みに調整してます。
ワンディーさんにはチャットでMOD確認をさせてもらったりといろいろお世話になりました。 @ワンディー Thank you for many great cards!!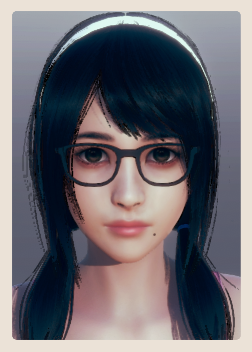 MOD List

- Plugin: AIABMX
  https://github.com/ManlyMarco/ABMX/releases

- Plugin: Material Editor
  AI_MaterialEditor~.zip
  https://www.patreon.com/posts/materialeditor-9-34705993 

- Eye: HigeoA
- Highlight: HigeoE
- Eyelashes: HigeoD
  Author: ひげお
  [配布][AI少女][製品版用]統合FaceMOD V0.5
  HigeoFaceMODforAISyojoV0.5.zipmod
  https://www.pixiv.net/artworks/77718876
  https://ux.getuploader.com/AISyojoUpLoaderHigeo/download/6

- face: Nyaacho 01
  Nyaacho faceskin 1.1.0
  Discord search key: "in: ai-mod-sharing Nyaacho faceskin"
  11/28/2019

- skin: HD Skin 5
  Author: Un1imit3d ?
  HD_Skins
  https://mega.nz/file/qJEl0CJT#5bL5oKbKV1PXPDzA6YEftLl7PDAq-RtXU_QQtv9oMz8

- skin texture: XQ 01
  Author: xq111222
  [xq111222] Skin 1-4
  4x2 Skin textures + overlays
  Discord search key: "in: ai-mod-sharing from: pixelgrinder#2313"
  01/01/2020

Other cards
AI少女 キャラクタまとめ – AI Shojyo Character Card
---

55b55.netはネットワーク負荷、ストレージサイズ、サーバ性能不足の問題が発生しています。貧弱なサーバーから新しいサーバに乗り変えて維持・管理する費用を支援してもらると助かります。
PATRON限定のコンテンツはありません。すべてのデータは今まで通り即時無償で公開します。
それでも私に投げ銭してくれる奇特な方が居れば・・・。

55b55.net is experiencing problems with network traffic, storage size, and server performance. Please help with the cost of switching from a poor server to a new one.
There is no content exclusive to PATRON. All data will be made available to the public immediately and free of charge as ever.
Still, if there is an eccentric person who is willing to throw money at me...
---
!!ATTENTION!!
About AI Shoujo
About HoneySelect
AI少女について
ハニーセレクト/HoneySelectについて